COOKING LIKE A MASTER CHEF By Graham Elliot
Graham Elliot's COOKING LIKE A MASTER CHEF has 100 recipes ranging from simple and satisfying comfort dishes to fancy desserts designed to impress. The recipes below only give you a small taste of what to expect when there's so much more to be savoured and explored from this cookbook collection. I suggest you pick up a copy so you can get cooking like a Master Chef and discover new recipes to tempt your taste buds and enhance your everyday meals!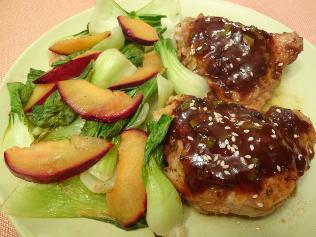 CHICKEN THIGHS AND BOK CHOY WITH PLUMS
I picked this recipe to test because my family always appreciates chicken and just so happens chicken thighs were on sale so there's that, plus I love bok choy! There are plenty of drool worthy recipe photos in Graham's cook book but there wasn't an image to go with this particular recipe. No worries though. The intro was a fun read and the instructions were simple to follow. Basically it boils down (but not actually boiling) to grilling the seasoned chicken thighs and making a glaze to go on top of the chicken as it cooks. Let's chat about bbq sauce shall we? I can only recall one time when I intentionally set out to make a bbq style sauce from scratch and that was my father's famous West Indian sauce which uses molasses for the sweetness, but that's a whole other story and recipe for a different post.
I had most of the main ingredients for the pan glaze/sauce that goes with the sesame chicken thighs so I was good to go. After I assembled all the ingredients on the counter and started it in the pan the glaze came together easily. Are you wondering if it was good and worth the effort? In one word, yes! The teenager was eating it with a spoon level of good! I think using fresh ingredients like, ginger, garlic, and limes made all the difference. They gave the glaze a great wakeup punch, especially if you compare it to the average bottled bbq sauce.
As for the salad, I never would have thought to combine bok choy and plums but it turns out this combo is a winner!
TIPS AND TRICKS
You can do the chicken and the glaze on it's own. The bok choy and plums can stand alone as a salad as well.
If you're looking for a starch to accompany this meal try rice. I do mine in the microwave and it turns out great every time! Just use the 1 cup rice to 2 cups water ratio. All microwaves are different but basically you can microwave the rice and water in an uncovered microwave safe dish on high power for 10 minutes, then another 10 minutes on half power. This method will get you perfect rice in record time and no burnt pot!
If a recipe calls for wine and you already drank all the wine in the house so you don't have any on hand just add apple juice or water in the same amount of liquid.
SUGAR COOKIES
Did someone say COOKIES?! Why yes, I did mention cookies, and sugar cookies at that! My family was invited to a Halloween house party and I planned to bring along a baked treat. The sugar cookie recipe looked like my best bet for decorating in some spooky fashion. The cookie dough came together easily and quickly with a few basic ingredients and my handy dandy stand mixer! I was tempted to tweak the recipe but didn't after heading Graham's advice by quoting Wu-tang Clan, "Sugar cookies aint nuthin' to f**k with!", so basically, enough said!
The recipe stated it would yield 20 cookies but my single recipe batch was more like double that number. I did spoon out small amounts and flattened the dough a bit more than what was recommended so the cookies would make nice canvases for decorating. You can see my cookies in their mummified state in the image above. Everyone who tried the sugar cookies were impressed with their texture and taste! This recipe is one I will keep on hand for future cookie cravings and holiday cookie decorating!
TIPS AND TRICKS
Keep in mind if you only tap the sugar topped cookie dough with a spatula or the flat bottom of a glass the cookies should turn out rounder after baking.
Want to decorate with icing but have no icing gun or bag? What is a gal or guy to do? The answer to your woes is a ziplock bag! Fill it with your icing, press the air out and cut the tip off one bottom corner. Roll and squeeze the icing filled bag as you write or decorate your cookie creations.
This is my friend Denise and I making a tasty Graham sandwich in the Walmart Heartland Centre in Mississauga, Ontario. Thanks for the invite Simon & Schuster Canada and cheers to you Graham Elliot!
Below is a sneak peek of Graham Elliot's tempting recipes from "Cooking Like A Master Chef" courtesy of Simon & Schuster Canada.
Test them out and enjoy!