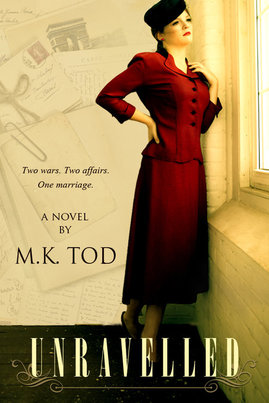 Book Launch Event For UNRAVELLED By M.K. Tod
WHEN: October 8th, 2013 at 7:00 p.m.
WHERE: Duke of York at 39 Prince Arthur Avenue in Toronto, ON.
WHAT: To celebrate the release of UNRAVELLED! Janet Graham, author of BABES ON BAY STREET, will interview Mary about her research and writing. Copies of UNRAVELLED will be available for signing.

▪ SEPT 16 – Erin Eymard of The Bookworm's Fancy will host Mary's guest post on Researching Historical Fiction.
▪ SEPT 17 – Wanda Lynne Young will host a giveaway for Unravelled on her website Bookalicious. Visit the Rafflecopter widget above!
▪ SEPT 18 – Mary will be on David Lawlor's History with a Twist, where he celebrates the bit players of history, with the topic WWI Women Were Heroes Too.
▪ SEPT 19 – The Washington Independent Review of Books is hosting an article Mary has written on Top 10 Historical Fiction Authors.
▪ SEPT 20 – Deanna Raybourn, author of A Spear of Summer Grass and many other novels, hosts Mary's post on Becoming a Historical Fiction Writer. Giveaway included.
▪ SEPT 21 – Mary has written a post about WWI Journals for Evangeline Holland's Edwardian Promenade, a wonderful source of Edwardian history.
▪ SEPT 22 – Tara Wagg at Boomda's Little Corner will review Unravelled and offer a giveaway copy.
▪ SEPT 23 – Christy English, author of Love on a Midsummer Night, hosts a Q&A about Mary's writing.
▪ SEPT 24 – Sheilagh Lee is reviewing Unravelled on her blog Fear Not the Darkness and will also offer a giveaway.
▪ SEPT 25 – Christy English returns with a book giveaway on her blog.
▪ SEPT 26 – Sheilagh Lee features an excerpt of Unravelled on her blog Well Read.
▪ SEPT 27 – Mary will be talking about Becoming a Writer on Jenny Toney Quinlan's blog Let Them Read Books.
▪ SEPT 28 – Amy Bruno will feature Mary's article Ingredients of Favorite Historical Fiction on her blog Passages to the Past.
▪ SEPT 29 – Cyn Gagen will feature a review of Unravelled and run a giveaway on Creative Cynchronicity.
▪ SEPT 30 – Yummy Mummy Club's Bookalicious will host Mary's article about WWI novels that influenced her writing plus a book giveaway.
▪ OCT 1 – Mary will be guest posting on Helen Hollick's blog Of History and Kings. Helen writes historical fiction and historical adventure.
▪ OCT 2 – Carol Wright of Dizzy C's Little Book Blog will review Unravelled.
▪ OCT 3 – Danielle Christopher will review Unravelled on NuggleMama's Handful.
▪ OCT 4 – Deborah Swift, author and blogger at Royalty Free Fiction, offers the story of how Unravelled came to be.
▪ OCT 5 – Meg Wessell will review Unravelled on her blog A Bookish Affair.
▪ OCT 6 – Jenn Annis reviews Unravelled as a guest blogger on Genuine Jenn and will offer a giveaway.
Want your book featured in Book Blog Tour?
Visit Bookalicious Services to learn more about Book Blog Tours and other author PR services